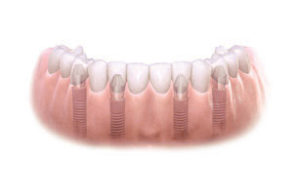 Dental implants are used to replace tooth roots that have been damaged by decay, injury or periodontal diseases like gingivitis. The implants provide a foundation for durable replacement teeth that look and feel natural. Used to fill spaces, replace missing teeth and support dentures, implants are a great and long-lasting solution for anyone who wishes to improve their smile.
Most commonly, dental implants are placed surgically into the jawbone using cylinders, screws or blades, and each implant can hold one or more artificial teeth.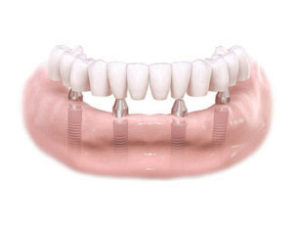 This technique is often used for patients as an alternative to removable dentures or bridges.
During the dental implant procedure, a tooth root implant made of titanium is inserted into the missing tooth's bone socket. The jawbone grows around the metal post as it heals, securing the post in the jaw.
After the dental implant has bonded with the jaw, a small metal collector piece is attached to the implant to secure the new tooth. The dentist makes impressions of the teeth, creating a detailed mold of the patient's bite which serves as a model for the new tooth or teeth. The replacement tooth, known as a crown, is then attached to the connector post. The new teeth are matched to the color of the patient's natural teeth and are placed securely in the jawbone, making the implant look, function and feel just like natural teeth.
"Dental implants changed my life. After missing teeth for years, they truly felt like a miracle. Dr. Tahernia walked me through the entire process. It was easy and painless. I'm proud to show my teeth for the first time in a long time!"
Implant dentistry procedures cause very little discomfort, but the benefits of dental implants are great. The natural look of implants can improve the patient's appearance and self-confidence and reduce the discomfort often associated with removable dentures. Poor-fitting dentures can cause difficulty speaking and eating and often require the use of messy adhesive. Implant dentistry eliminates these problems. With the proper care, implants are permanent, durable and may last a lifetime.
We look forward to the opportunity to serve you and if we can be of service, please refer to our Patient Library section, or if you would like to request an appointment, please contact us by email.
We are happy to share with you what our patients say about their experience with us.
– Coleen H.


5 out of 5 stars on 08/03/2017
Dr. Vakay is fabulous! She is the BEST dentist I have ever had.
– Howard G.


5 out of 5 stars
I can't thank the staff at the Centreville Dental Wellness Center enough for their sensitive care.
– Genny Z.


5 out of 5 stars on 23/03/2018
Excellent practice. They are very kid friendly and did superior cleanings than the prior dentist.
+
Centreville Dental Wellness Center
Rated: 4.9 out of 5 stars based on 60 reviews.