Dental Implants Dentist in Centreville, VA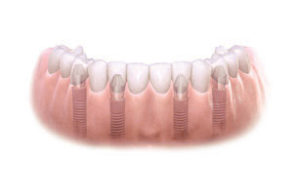 At Centreville Dental Wellness Center, we provide the most secure and functional replacement for your missing teeth: dental implants. These implants are topped with a prosthetic tooth or teeth called restorations. We offer a full range of options for your dental implant restorationsat at our implant dentistry office near Fairfax and Chantilly, VA.
Dental implants are used to replace teeth that have been lost due to cavities, injury, or gum disease. The implants provide a foundation for durable porcelain replacement teeth that look and feel natural. Used to fill spaces, replace missing teeth, and even support dentures, dental implants are a great and long-lasting solution for anyone who wishes to improve their smile.
The Dental Implant Process at Centreville Dental Wellness Center
Most commonly, dental implants are placed surgically into the jawbone and each implant can hold one or more artificial teeth. We can even use this appliance instead of removable dentures or dental bridges.
Here at Centreville Dental Wellness Center, we can perform the entire dental implant procedure all in our office near Fairfax and Chantilly, VA! The dental implant procedure goes as follows: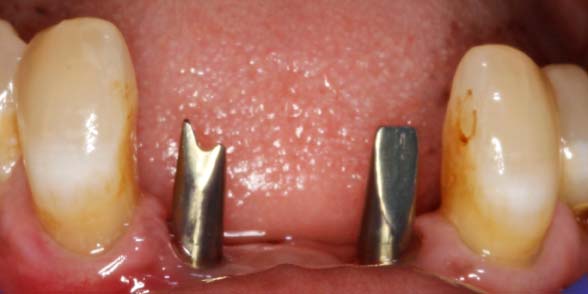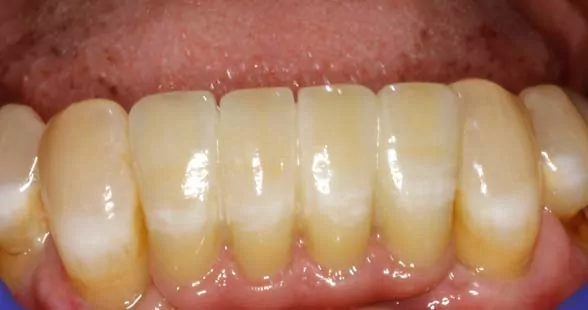 Implant Placement: During the dental implant procedure, we will insert a tooth root implant made of titanium into the missing tooth's socket.
Healing: Your jawbone will grow around the metal post as it heals, securing the post in the jaw and making it sturdy enough to support a replacement tooth.
Abutment Attachment: After the dental implant has bonded with the jaw, we will attach a small metal base—called an abutment—to the implant.
Dental Impression: Our dentist will take impressions of your teeth, which will create a detailed mold of your bite. This will serve as a model to make the new tooth or teeth.
Crown Restoration: We will then attach the replacement tooth (or teeth) securely to the abutment post.
To keep your smile looking uniform and beautiful, we can match the color of the new teeth—whether a single tooth, dental bridge, or full set of dentures—to the color of your natural teeth. Our teeth implants look, function, and feel just like natural teeth.
---
Tooth Implants near Fairfax and Chantilly, VA
You can save a lot of time and avoid a hassle by getting tooth implants at Centreville Dental Wellness Center. That's because we complete the entire process here in one office! We will:
Diagnose the issue.
Plan your treatment.
Perform 3D CT scans to find the most effective implant sites.
Create a safe surgical guide.
Perform the implant surgery.
Craft your custom dental crown, dental bridge, or denture.
Restore your lost tooth.
If the jawbone at the implant site is too thin, we can also perform a bone graft to strengthen the jaw. Whatever your tooth replacement needs are, Centreville Dental Wellness Center can help!
"Dental implants changed my life. After missing teeth for years, they truly felt like a miracle. Dr. Abel walked me through the entire process. It was easy and painless. I'm proud to show my teeth for the first time in a long time!"
---
Why Replace Missing Teeth?
With our skilled and compassionate implant dentists, implant dentistry procedures cause very little discomfort, and the benefits of dental implants are great!
Eat what you love again | One of the hardest parts of missing teeth is giving up the foods you love. Even dentures can't handle all foods you'd like to eat, but our dental implants can.
Protect your oral health | Missing teeth leave open gaps in your gums. These spaces could be filled with bacteria, which could cause painful infections. Replacing your teeth with dental implants will fill those gaps and protect your oral health.
Maintain a youthful appearance | Your jawbone fills out your face and keeps you looking young. Your jawbone needs constant stimulation from the roots of your teeth to stay strong. Dental implants mimic tooth roots, so you can avoid premature aging.
Strengthen your remaining teeth | In the absence of some of your teeth, the others might drift out of place to fill those empty spaces. You'll probably experience extra wear on some of your remaining teeth. This can endanger the remaining teeth, so don't wait!
Plus, our patients can enjoy the comforts of having the whole process done here—where your dentist truly cares about you and gets to know you personally while our team keeps you comfortable with amenities and compassion.
---
Am I a Candidate for Implant Dentistry?
We'd love to provide you with dental implants so you can smile confidently again. If you are compatible with the treatment, implants can drastically improve your health and quality of life. Almost all our patients can move forward with the treatment, but if you would like a better idea of what factors go into determining whether or not implants are ideal for you, here's a list of what we will consider:
Age: Implants can improve life at almost any age. Whether you are 22 or 88, you can experience the capability and self-esteem that come with dental implants. In most cases, however, implants are not recommended for children. If your child needs tooth replacement, we have other options that are better for their growing mouths.
Health: It's important to get your oral health taken care of first before undergoing implant surgery. If you can maintain a good oral hygiene routine as well as visits to our office, there's a good chance your mouth is healthy enough. If you are missing the necessary bone density, we may be able to graft some bone tissue in your jaw to support implants.
Periodontal/Gum Disease: One of the most common needs for tooth replacement is gum disease, and these procedures are usually successful. Tooth implants do not decay, which makes them ideal for patients with gum disease. Getting dental implants will keep patients with gum disease from losing bone mass in their jaw.
Click here to learn more about periodontal disease.
Dentures: If you wear dentures, you might be interested in a more secure option that stays firmly attached to your gums. At Centreville Dental Wellness Center, we can use dental implants to fasten them to your gums. Even if you currently have clasps holding your dentures in place, our implants can secure the dentures without needing clasps.
Click here to learn more about implant-supported dentures.
Smoking: Because of the chemicals in cigarettes, many smokers lose their teeth to decay sooner in life. Those same chemicals can make it difficult for implants to work properly, but our skilled dentists at Centreville Dental Wellness Center are ready and able to help you get a functioning smile no matter what it looks like right now.
Dental Hygiene: Whether you currently have dentures or painful open or infected gums, tooth implants from Centreville Dental Wellness Center can allow you to clean your teeth properly and thoroughly without causing discomfort or requiring you to remove them. Dental implants can and should be cleaned just like your natural teeth.
---
How Much Do Dental Implants Cost?
Dental implants are a long-term investment. The cost of leaving an empty tooth socket untreated can be very high, because your other teeth can naturally start moving toward the socket, distorting your smile. Plus, the exposed socket can become infected. These problems cost time and money to correct.
Of course, traditional dental bridges and dentures are lower-price options to replace teeth, and they can be placed more quickly. However, these replacements wear out sooner, costing you more in the long term. In contrast, we carefully design each implant to last a lifetime, which can save you money in the future.
---
Our Exceptional Dentists Are Waiting to Restore Your Smile
Here at Centreville Dental Wellness Center, your dental implant restoration will be in great hands with our well-educated and experienced dentists. Dr. Vakay, was voted Top Dentist by readers of Virginia Living magazine in both 2020 and 2021.
Dr. Vakay and Dr. Abel, are also dedicated to their continuing education and are members of or recognized by the following professional organizations:



Academy of General Dentistry.
The International Congress of Oral Implantologists.
The American Academy of Cosmetic Dentistry.
Kois Center.
Misch Implant Institute.
Virginia Dental Association.
Northern Virginia Dental Society.
The American Dental Association.
The American Academy of Restorative Dentistry.
---
Contact Us for Implant Dentistry in Centreville Today
We are anxious to meet you and restore the beauty and functionality of your smile. If you're missing teeth, Centreville Dental Wellness Center is the place for you! We are skilled and experienced in implant dentistry. Set an appointment today and allow us to give you a beautiful smile for a lifetime! We provide dental implants to patients from all over Centreville and the surrounding areas of Northern Virgina, including Fairfax and Chantilly.
Additional Information