Emergency Dentist in Centreville, VA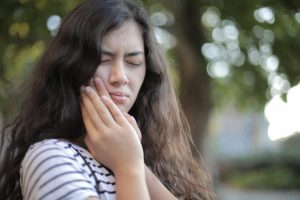 At Centreville Dental Wellness Center, we know that life doesn't always go as planned. Dental emergencies can be painful and frightening, and we know you need prompt attention to feel better.
Our team goes the extra mile to ensure you get the dental treatment you need as quickly as possible! Our staff is prepared to assist you should a dental emergency arise, whether the emergency care is for you, your family members, or your friends.
In the case of a dental emergency requiring urgent dental care, please call our office so we can make every effort to schedule your treatment as quickly as possible. We can often set an emergency dental care appointment for the same day during normal hours. Our Centreville emergency dentist's office number is 703-815-0775.
Reasons for Emergency Dentistry near Fairfax and Chantilly, VA
The need for emergency dentistry can't be predicted. You might need it because of an accident or a sudden toothache that won't go away. That's why we'll schedule urgent dental care as soon as possible for you at Centreville Dental Wellness Center. We provide emergency dentistry services and urgent dental care to patients who come from all over Northern Virginia, including Fairfax and Chantilly, VA.
"Our little girl had a broken tooth and we needed to see a dentist as soon as possible. Dr. Abel saw us after hours to help with the pain and fix her tooth. We're so happy that he was there for us when we needed emergency care."
Common Types of Dental Emergencies in Centreville, VA
You may be wondering what exactly is considered "urgent" or an "emergency" when it comes to your teeth and mouth. Our patients often call us about the following emergency conditions:
Dental Abscess: A dental abscess is a painful pocket of infection in a tooth or the gums—usually appearing like a type of blister. It's caused by untreated bacterial infection.
Knocked-Out Tooth: If your tooth was knocked out in an accident, call us at 703-815-0775 immediately for urgent dental care. It may be possible to save your tooth without additional procedures if you visit us quickly.
Severe Toothache: Extreme tooth pain indicates something is wrong. An emergency appointment can find and treat the cause before it gets worse.
Chipped Tooth: When a piece of tooth chips off, the tooth may be exposed to further damage and its function may worsen. Additionally, the damage can be embarrassing and frustrating, especially on a front tooth.
Broken Tooth or Cracked Tooth: If a tooth sustains a major crack or break, we can treat it with a dental crown, tooth filling, or another restorative dentistry method.
Facial Trauma: An accident that impacts the face can damage the tissues, bones, and teeth. Your Centreville emergency dentist is trained to treat this type of injury.
We provide a variety of treatments for each of these issues and are prepared to help at a moment's notice if needed. Call Centreville Dental Wellness Center if you or a family member have a terrible toothache or other extreme dental pain and need emergency dental care. We can find you our first appointment and answer any questions you may have.
Call Now for Emergency Dental Care near Fairfax and Chantilly, VA
Centreville Dental Wellness Center is here for you! If you are experiencing an emergency, call us right away at 703-815-0775. We provide emergency dentistry services and urgent dental care to patients from Centreville, Fairfax, Chantilly, and beyond!