Want straighter teeth but hate the thought of braces? Invisalign allows you to get a straighter smile with a virtually invisible orthodontic appliance. At Centreville Dental Wellness Center, we let you know if you qualify for Invisalign to improve the appearance and function of your teeth.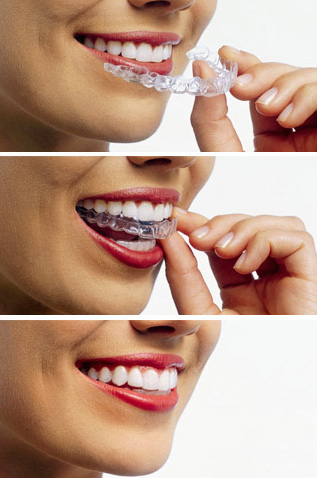 If you never had braces when you were a child; if you have crooked teeth that embarrass you but you'd be embarrassed to spend a few years wearing braces, then Invisalign could be the solution for you. Though there is a special type of Invisalign designed for teenagers, traditional Invisalign aligners are designed for adults and can give you the straight and beautiful smile you've always wanted without metal brackets and without waiting years for results.
The Invisalign treatment has become one of the most sought after dental treatments for adults in recent years. That's because Invisalign does something that many years ago no one thought would ever be possible: It straightens teeth invisibly, comfortably and usually in only about one year. Invisalign aligners are not braces, but they can correct simple malocclusion and crooked front teeth as well as braces can.
The advantages of Invisalign over braces are numerous. In addition to being made of nearly invisible, clear material, the aligners are removable so you can brush your teeth and eat without them interfering. They are more comfortable than braces and take much less time to get used to. You clean the aligners outside of your mouth, and every few weeks you get a completely new set of aligners, so they are always fresh. Best of all, the entire treatment time is about a year on average, which is much shorter than the usual treatment time with braces.
There are a few things that Invisalign can't do. If you have severe malocclusion or teeth that require vertical rotation, braces are necessary to fix these problems. Generally, Invisalign works best for the front teeth that show when you smile. Getting these teeth straightened and properly aligned is not only good for your physical appearance and your self-esteem; it also helps all of your teeth to maintain their proper position and stay healthy.
"Getting braces as an adult is not fun. But so is not having straight teeth. After wanting to fix my smile forever, I came to Centreville Dental Wellness Center. I talked with Dr. Vakay about Invisalign, and I was so happy with my treatment. No one knew my teeth were getting fixed, and today, I'm proud to show my smile!"
Getting Invisalign starts with a consultation and exam. At Centreville Dental Wellness Center, we can determine if you are a good candidate for Invisalign, and then begin a treatment plan. Your aligners are replaced approximately every two weeks as your teeth gradually move into position. Unlike dentures that require frequent readjustments, a set of new aligners is all that is needed to keep a proper fit as your teeth movement progresses. Because of the near-invisibility of the aligners and the fact that you are more involved in their care by taking them out to clean them daily, you can better see and understand the progress your teeth are making than you can with braces.
Invisalign treatment works best and fastest if you wear your aligners as much as possible; about 22 hours a day or more is recommended. The aligners should only be removed for cleaning and for you to brush and floss your teeth, and eat and drink.
If you'd like to learn more about Invisalign, call us at our Centreville, Virginia office to set up a consultation appointment.