What is Snap-On Smile?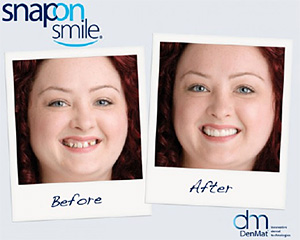 Snap-On Smile from our Centreville dental office is a patented, easy to use and painless way to obtain a beautiful smile. After years of extensive research and development, our dental team can now provide you with a Snap-On Smile that is thin and strong with the look of natural teeth. You can eat and drink with your Snap-On Smile. It's easy to care for and can be a temporary or permanent cosmetic solution. It's available for upper and lower teeth.
Snap-On Smile's unique, proprietary formula of hi-tech dental resin make it very thin yet extremely strong. It fits right over your own teeth to give you a beautiful, natural looking smile—even if you have stains, chips, gaps or missing teeth.

And for many people, Snap-On Smile can be life changing. It gives back the confidence to smile. Thousands of people worldwide have already experienced the unique benefits of Snap-On Smile.

Snap-On Smile is for just about everyone!
Snap-On Smile is an affordable and life-changing solution for people of all ages. Getting a Snap-On Smile simply requires two, short, painless visits with no drilling, no shots and no change in tooth structure.
It is an excellent choice for:
Gaps, crooked, stained or missing teeth
Those who are not candidates for bridges or implants
Anyone who would like a beautiful smile without the expense and discomfort of
complex and invasive dental procedures
Anyone who has an old-fashioned removable partial denture and wants a beautiful,
more comfortable alternative
We look forward to the opportunity to serve you and if we can be of service, please refer to our Patient Library section, or if you would like to request an appointment, please contact us by email.
We are happy to share with you what our patients say about their experience with us.
– Robert R.


5 out of 5 stars on 02/03/2017
I cannot offer enough praise for Dr. Vakay! She is by far the best dentist I have ever had. Thank you for your exceptional dental treatment and services!
– Ryan H.


5 out of 5 stars on 01/03/2017
This dental practice is absolutely wonderful. I have had multiple procedures and follow ups that have made me love my smile again!
– Jenna T.


5 out of 5 stars on 20/11/2018
I had such a pleasant experience. The staff is great and they are very knowledgeable. I immediately felt welcomed. And Dr. Vakay is amazing!!!
+
Centreville Dental Wellness Center
Rated: 4.9 out of 5 stars based on 60 reviews.