Dr. Vakay and Dr. Abel provide comprehensive dentistry services for children in Centreville. Your child's baby teeth are essential to the health of their adult smile—with our professional and compassionate care, your kids will love the dentist and caring for their oral health!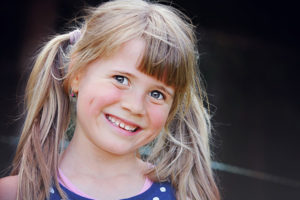 Infants and children, although young, are not immune to developing oral health problems. Tooth decay is one of the most common childhood ailments, more chronic than asthma or hay fever. Early and regular visits to the dentist are essential to combating decay and other dental problems. Our Centreville dental practice is committed to providing the most comprehensive therapeutic and preventive oral health care to our young patients.
Regular oral health exams, preventive dental care, and regular cleanings and fluoride treatments are the foundation of our children's dental practice. In addition to offering these services, we also offer therapeutic care that address a number of childhood and young adult dental issues. Your child may require a custom mouthguard, cavity repair, experience dental developmental difficulties or require care for injuries like knocked-out or fractured teeth. You can trust your Centreville dentist to remedy all these issues with compassion and competence.
"Our kids used to hate the dentist. After moving to the area and finding Dr. Abel, they love getting their checkups now. And the best part—their teeth are healthy with no cavities! Thanks a million, Dr. Abel."
Treating children is part art form and part science. Many children develop an anxiety about going to the dentist, but we will do everything possible to put your child at ease. From the moment your child walks into our office, he or she will be met with smiles from our friendly staff. We never rush our patients out the door, so your child will have plenty of time to get used to the sights, sounds and smells of the clinic. Our comfortable and calm environment will relax his or her fears, and our dental staff will explain all procedures in a kid-friendly manner so there are no surprises.
Your child's dental health is very important, and our staff will teach him or her about adopting good dental habits. During the visit, we may discuss good flossing, brushing and other care habits. These lessons will encourage your child to make good dental hygiene a part of his or her entire life.
We look forward to the opportunity to serve you and if we can be of service, please refer to our Patient Library section, or if you would like to request an appointment, please contact us by email.