Tooth Bridge Dentist in Centreville, VA
We provide a variety of options for your dental bridge at Centreville Dental Wellness Center. A secure and affordable solution to lost teeth, dental bridges can restore your smile and eliminate the gaps and embarrassment caused by missing teeth.
If you need to replace just one or up to three teeth in the same part of your mouth, a dental bridge is an affordable solution that is closer to being permanent than a removable partial denture. A tooth bridge can only be removed by a dentist and with proper care, a tooth bridge can last for years before needing replacement.
Types of Dental Bridges in Centreville, VA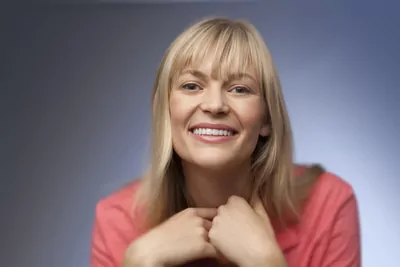 There are several types of dental bridges, the most common type being a traditional bridge that replaces a tooth or teeth that are in a row and have natural teeth on other side. The dental bridge consists of the artificial tooth or row of teeth with dental crowns on either side. Before placement of the dental bridge, your natural teeth on each side of the gap where your teeth are missing must be prepared to receive the dental crowns. The tooth bridge is then placed with the tooth crowns securing the bridge, and the artificial teeth, called pontics, in the middle. If you've ever wondered why this is called a bridge; it's because with the dental crowns securing the replacement teeth on each side, it literally bridges the gap where your teeth were missing.
Cantilever Bridge Fairfax, VA
If you have missing teeth on the side of your mouth so that there are only natural teeth on one side of the gap, a type of dental bridge called a cantilever bridge can be used. Cantilever bridges are less common and not as secure as traditional bridges, and they are generally not recommended in the back of the mouth because they can put too much pressure on the other teeth and have the potential to cause damage.
"I wanted to close the gap in my smile but didn't know where to begin. I talked with Dr. Vakay about dental bridges. I was even able to see how my smile would look following the procedure. It was the absolute best choice and I'm so happy I came here for my treatment!"
Maryland Bridge Chantilly, VA
A third type of dental bridge uses a metal or porcelain framework that is bonded to the natural teeth. This is called a Maryland bonded or resin-bonded dental bridge. A Maryland bridge is different than a traditional bridge because of the way that it is bonded to the adjacent teeth without removing any enamel.
Dental bridges can be made of porcelain, porcelain bonded to metal or ceramics. The only drawback to dental bridges is that they can place pressure on surrounding teeth. It is important to take good care of all your teeth when you have a bridge, to keep them healthy and strong. With proper care, a dental bridge can last for up to 15 years before needing to be replaced.
Dental Bridge Procedure
Getting a dental bridge usually takes a few appointments and follow-up visits. First, the teeth on the sides of the gap, called the abutment teeth, are prepared to receive the dental crowns. A temporary bridge is usually placed while your permanent bridge is being made from impressions of your teeth. After a few checks on placement, you receive your permanent bridge and it is cemented in place.
A dental bridge is not usually recommended if you have more than three missing teeth in a row. In that case, a partial denture might be a better option. A dental exam is necessary to determine if you are a good candidate for a dental bridge.
Contact Us for Dental Bridge Options near Fairfax & Chantilly, VA
You can call us at Centreville Dental Wellness Center at any time to ask questions or set up an appointment at our Centerville, Virginia dental office, near Chantilly and Fairfax, VA.
Related Restorative Dental Procedures