Tooth Crowns & Dental Crowns Dentist in Centreville, VA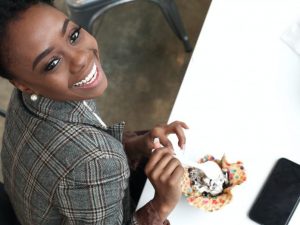 Do you have a damaged tooth, a misshapen or discolored tooth, or a painful tooth? Dental crowns may be part of the solution. We craft our tooth crowns from high-quality materials that are compatible with the human body, keeping your teeth and your overall health safe for the long term. If you are in the Fairfax or Chantilly area and are in need a tooth crown, call Dr. Rena Vakay, today.
What Is a Dental Crown?
A dental crown is a "tooth cap" that completely covers the top and sides of a tooth. We make dental crowns from a long-lasting material like porcelain that looks just like a real tooth. We can even match the tooth cap to the exact color of your other teeth, or you can choose an alternate color like gold.
If you have a cracked tooth, broken tooth, or a tooth that is vulnerable in some other way, we can utilize this very quick process:
Capture professional impressions of your tooth.
Make your tooth crown in the lab based on the impressions.
Prepare the tooth shape for the new tooth crown.
Bond the dental crown to the prepared tooth.
Adjust your tooth cap as needed to make it look great in your smile.
We can also craft a full dental crown if you need a tooth replacement. This can rest in the empty socket either attached to a dental implant or placed in a dental bridge.
Benefits of Dental Crowns
If you have a cracked, diseased, or broken tooth, it is dangerous to leave it as it is. There is a risk of infection because bacteria can slip through the tooth damage into the sensitive tissues within the tooth.
The tooth crown process will reinforce and strengthen the tooth to stop the damage from spreading, keep out bacteria, and give you back the ability to chew normally.
You might have a tooth that looks bad in some way, that you have tried to hide in pictures. A new crown will make it look amazing for many years. Overall, dental crowns:
Give teeth strength for a long life.
Fight off tooth decay.
Hold the tooth together, preventing spreading cracks.
Look great in your smile.
Only need one or two appointments.
If you're in the Centreville area of Virginia, including Fairfax and Chantilly, VA, contact Centreville Dental Wellness Center for a tooth crown. We can discuss the restorative and cosmetic dentistry procedures that will protect your teeth and improve the aesthetics of your smile. 
When Is a Tooth Crown Needed?
After a professional exam, Dr. Vacay, or Dr. Abel, will recommend the most effective option to restore your tooth and protect your health. This could be a tooth crown. A dental crown is often used to:
Restore a Tooth After a Cavity: A tooth cap reinforces the tooth and keeps it strong long-term after a major cavity.
Cover or Replace a Tooth Filling: If you have an old tooth filling, it may be at the end of its life. We can remove the dental filling and protect the tooth with a new tooth cap.
Cosmetically Restore a Tooth: We can cover and reshape a tooth that is discolored, damaged, or misshapen. Get a tooth that looks exactly the way you want.
Replace a Tooth: We can craft a full new tooth to replace a lost tooth and put it in place with a dental implant or dental bridge.
Protect a Damaged Tooth: If your tooth has been chipped or cracked, a dental crown gives it new structure and strength.
Finish a Root Canal Treatment: A dental crown is perfect for preventing further infection after a root canal.

Click here to learn more about root canal therapy in Centreville, VA.
When we bond a dental crown into place, we expect you to be able to chew the foods you like and to smile naturally for many years. If you have any trouble, we'll quickly examine your crown and adjust or repair it.
Our Crowning Dentists in Centreville
To give your teeth the coronation they deserve, you want professional and qualified dentists. Between the two of them, Dr. Vakay, and Dr. Abel, have been accredited by or are members of the following professional organizations: 
Academy of General Dentistry.
The American Academy of Cosmetic Dentistry.
Kois Center.
Virginia Dental Association.
Northern Virginia Dental Society.
The American Dental Association. 
The American Academy of Restorative Dentistry.
Dr. Vakay, has also received the Top Dentist designation by readers of Virginia Living magazine in 2020 and 2021.
Get Your Dental Crown at Centreville Dental Wellness Center
If a tooth has been damaged, don't worry. We can reshape it and protect it with a dental crown. Your tooth will look great and be protected and strengthened for many years. Contact Centreville Dental Wellness Center now for the first appointment to save or replace your tooth.
Related Services