We focus on preventative dental care to help your teeth and gums remain healthy for life. We provide nutrition guidance, dental sealants, fluoride treatments, and, of course, regular exams and cleanings to keep your smile healthy and beautiful.
Sealants, Fluoride Therapy, Nutritional Counseling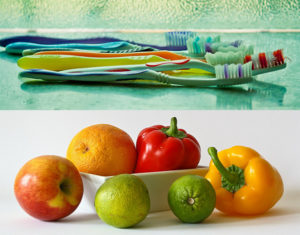 Preventive dental care is necessary to ensure the health of your gums and teeth. Everything you do, or should do, regularly to take care of your teeth is part of preventive dental care, including flossing and brushing, maintaining a healthy diet and seeing your Centreville dentist for routine exams and cleanings.
Dental sealants are an important aspect of preventive dental care. These plastic coatings are placed on the molars' chewing surface to help guard them against decay. These teeth, located in the back of the mouth, are marked by grooves that make them particularly vulnerable to decay. The grooves are generally difficult to clean, deep and may be too narrow to clean with a toothbrush. When plaque accumulates in the grooves, bacteria can break down the enamel and lead to cavities. The dental sealants provide extra protection for the teeth by providing a smooth covering over the grooved area.
Fluoride treatments offer even more protection for your teeth. The mineral helps prevent cavities when applied directly to the enamel of the teeth. Many toothpastes contain fluoride, but the most effective fluoride treatment is done in the dentist's office. The professional fluoride preparation used by dentists is much stronger than that in toothpaste and can provide longer lasting protection.
"I had to learn how to care for my smile all over again after learning I had so many cavities. From their nutritional counseling to their caring and informative approach, Centreville Dental Wellness Center empowered me to keep my smile healthy and beautiful."
Nutritional counseling is another important component of preventive dental care. A diet that consists of certain foods, such as those high in simple carbohydrates, can have an adverse effect on dental health. Bacteria thrive on carbohydrates, and cutting back on simple carbs like sugar can make it more difficult for the mouth to support the growth of bacteria. Increasing the amount of fruits and vegetables in one's diet is another focus of nutritional counseling because these carbohydrates actually help clean the teeth because they are high in fiber.
Our Centreville practice can teach patients other preventive care techniques and provide treatments that can lead to lifelong dental health.
We look forward to the opportunity to serve you and if we can be of service, please refer to our Patient Library section, or if you would like to request an appointment, please contact us by email.