A 60-year-old male patient came in to see us at Centreville Dental Wellness Center for severely discolored teeth. As a child, he was given tetracycline, an antibiotic that can darken the teeth while they are still developing and lead to the appearance of deep stains.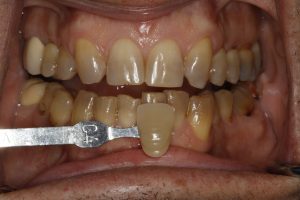 The patient had always been self-conscious of his dark and discolored teeth. In the past, he had tried whitening his teeth with over-the-counter products, but was disappointed in the lack of results. His smile needed professional treatment to restore its brightness.
Our solution to help this patient's discolored teeth was KöR Deep Bleaching, which is recognized as one of the world's most effective teeth whitening systems. KöR includes both at-home trays and in-office whitening for dramatic results.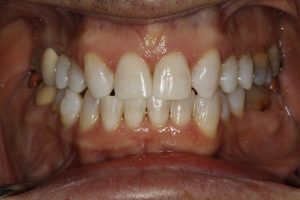 Using specially-fabricated KöR trays for eight weeks of at-home bleaching, along with two in-office sessions of professional teeth whitening, the patient was able to achieve fabulous results.
With regular maintenance, including professional cleanings and at-home care with KöR whitening trays, the patient should be able to keep his teeth white forever!